If you are over 40, you might be concerned about the appropriateness of your hair. Having a haircut that is not flattering can make you look older than you are and draw attention to areas that you might not want to show off. Just because you are over 40 doesn't mean that there are not a lot of looks that will turn heads and put you in the best spotlight possible.
Here are 46 Hairstyles for Women Over 40 that are simple yet stylish.
46. Rounded Short Layer Cut
Classy and sophisticated, this shorter cut is ideal for busy women that want to look elegant. A razor comb can help you keep the layers and look at home.
45. Salt & Pepper Bob
This look is ideal for ladies that want to play up their gray and look edgy and stylish. The face framing layers will put you front and center.
44. Ear Length Highlighted Bob
This is a short look, but the color is what makes it so amazing. You can be out the door in minutes, and it is so easy to maintain. Carefully placed custom highlights add an edginess and fashion-forward style you have to love.
43. Natural Wind Swept Carefree Cut
If you like to be outside and a natural, carefree look than let your real color shine through and go for a shoulder length cut with major volume.
See more on the next page…
42. Asymmetrical Short Bob With Layers
If you want a super cut face-framing cut that flatters then ask your stylist to leave longer layers in the front and shorter in the back. Highlights are a nice touch as well.
41. Diane Keaton's Short Bob With Bangs
This look is nothing short of classy. The layers add volume while the bangs draw attention to the eyes.
See more on the next page…
40.Short Heavy Razor Bob
If you are lucky enough to have thick hair, then this is a cut that can emphasize the beauty of your hair while allowing for manageability. We love this color, but there is a lot more you can do with it at the colorist.
39. Very Short Textured Pixie
Very shortcuts offer texture and showcase the face, and they have the major plus of being super easy to maintain with the occasional trim. Some fun foil highlights can add interest.
See more on the next page..
38. Rounded Face Framing Bob
The tapered layers and bangs put your face front and center. The bangs can hide a larger forehead with ease if this is an area of concern.
37. Below The Shoulders With Side Swept Bangs
Christie Brinkley knows style and this longer look shows that length can look elegant on a lady over 50. Side swept bangs make it look like you put more effort into style than you did.
See more on the next page…
36. Short Curly Wild Bob
Short curls have a lot of style and are very feminine. If your hair is already short, you may want to grow it out some as curls decrease length.
35. Long Gray Elegance
Very long gray hair is beautiful if you still have the volume to pull it off. This is good for thick-haired women that love it long.
See more on the next page
34. Neck Hugging Shag
Lots of layers and elegance are characteristic of this style. It is edgy but still totally right for a woman over 50. Those that work in offices will find this an excellent choice.
33. Long Red With Curly Ends
Red hair is one of the most requested hair colors with good reason. This long red look can be achieved with some color and lightly layered side-swept bangs.
See more on the next page
32.Angled Wavy Bob
This wavy angled bob is gorgeous when balayage color is used. The soft wave can be achieved with rollers if you don't want a permanent wave.
31. Long & Straight
Oval-faced ladies can get away with a long and straight look. Just make sure that length is not so great that it makes your face look too long.
See more on the next page
30. Wavy Little Bob
Helen Mirren demonstrates how cute a little wavy bob can be on mature ladies. This is a great look for thin to medium hair. Thicker hair can be layered more for manageability.
29. Super Shiny Short Cut
This pixie style cut relies on awesome shine. Luckily when hair is this short, it is easier to keep it in good condition. Gloss treatments can help further.
See more on the next page
28. Ultimate Mid Shag
This might appear to be a younger look, but it is flattering on women of all ages. Sometimes it can be nice to have length but not so much that it is heavy and weights down the volume. Can you say fabulous textured layers?
27. The Classy Updo
The updo always looks cool and sophisticated. If you leave it a little bit messy, then your look is more casual and relaxed. Of course, this means at the end of the day if your hair falls a bit, who cares?
See more on the next page
26. Half Up Half Down
There are so many ways to accomplish half up half down, but it is a great look. If you have a pony or bun up a bit higher than the pic, it can add volume to thinning or fine hair.
25. Loose Waves
We love loose waves because they look good on everyone and you can get the look with rollers, curling iron, or body wave at your stylist.
See more on the next page
24. The Career Bob
There is a reason why you see so many classy working ladies with this cut. It is beautiful, easy to manage, and frames the face which is important if you work with others a lot.
23. Shaggy Highlights & Shine
Creative color and parting of the hair contribute to the volume while glossy color and highlights make this a hairstyle that you cannot ignore. This is a hip look that will take years off your face when done well.
See more on the next page
22. Sleek Updo
For this look, you need to make sure your hair is as smooth and straight as possible. You will need shoulder length hair or longer for best results, but with some skill, you can do this with shorter locks.
21. The Hot Color Bob
Sharon Osbourne isn't afraid to experiment with some eye-catching color and neither should you. This is not the old days when anything that didn't have a bland name was considered too much.
See more on the next page
20. Wavy Volume Waves With Textured Bangs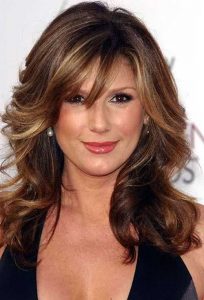 This romantic look is youthful and charming. Bangs are a manageable length and require little styling. For the curl, you may have to get some help at the stylist or use a good iron with a larger barrel.
19. Asymmetrical Pixie Cut With Opal Color
Gray hair can be pretty cool. There are plenty of younger women trying to copy the look. This pixie cut has some fab texture, and we love the purple opal color. You can get the same with a tint at the stylist.
See more on the next page
18. The Marilyn Bob
Style has no age and this sexy pin up worth bob and wave prove it like no other. You can look good no matter what you are getting into day or night.
17. Mussed Up Curls
Messy curls look fun and playful thus taking years off your age. Darker haired beauties we recommend getting some highlights to add definition to your curls.
See more on the next page
16. Messy Bun
The messy bun is sexy, easy, and youthful. This is a perfect look for a relaxing weekend or getting together with friends. A few hair elastics and maybe a few pins are all that is needed.
15. The Ultra Short
Women that want to show off a beautiful face and personality can usually pull off the ultra short. You can keep hair in great shape because it doesn't have a chance to get damaged. Regular trims are a must to keep this looking right.
See more on the next page
14. Chandelier Bob
This bob is cut to add a lot of volume on the top but not too many layers. The layers appear down below, and the overall effect helps soften a square jawline and face.
13. The Editor
This all one length side swept bob will make you look like you just stepped out of journalism school. A sophisticated look that is suitable for those with straight hair that want class and manageability.
See more on the next page
12. The Page Boy
The page boy cut is classic old style and easy to get at any stylist. For added fun have some foils done. The striped highlighted and low lighted color trend does well with these cuts.
11. Textured & Stacked
You will need to spend some time with a round brush and dryer in the morning to keep this looking like the picture, but it does do a lot for volume if you have thinner hair.
See more on the next page
10. Sleek Long Shiny Gray
If your natural color is now gray or you are heading in that direction, then you may consider going with it. Gray hair is popular with younger and older people now, and with a gloss treatment or toner, it can come alive.
9. Short Wedge Cut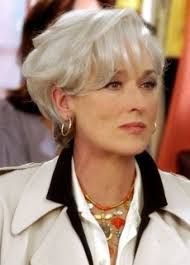 The wedge cut is classy and easy and suitable for all hair types. Curly or thick hair can be thinned with this cut.
See more on the next page
8. Color Enhanced Gray Shoulder Length Bob
You have to love the bright and fun colors that older women are using now for a hip new look. This temp color can be done at a stylist, or you can even use clip in extensions for instant color.
7.Shoulder Length Swept Back Layers
The shoulder-length cut is ideal for a lot of women that like enough hair to style but want manageability as well. Swept back layers add softness to your look.
See more on the next page
6. Long Silver Ombre
The ombre look is hot, and you can pull it off with silver hair with ease. Just ask for a lighter or darker color on the bottom of the hair. You won't need a major dye job.
5.Short Tucked Layered Bob
A shorter cut with lighter hair color can make you appear a lot younger than you are. Sharon Stone in the above picture is well over 50 yet could pass for a woman 20 years younger. This cute bob is easy to style.
See more on the next page
4. Super Shaggy Textured Pixie Cut
This spiky wild pixie cut is cute and easy to maintain. Add some extra color to it for variation.
3. Major Volume Mid Bob
This style does an amazing job of maximizing volume. The attention to highlights and lowlights makes this style have a lot of depth.
See more on the next page
2. Half Up Major Curls
This look is glamorous but not so much that you couldn't wear it to work. To get this, you will need a very large barrel curling iron or rollers. Pull half of hair up into a mid-level ponytail. You can tease hair how you want it.
1. Long Blonde
Blonde hair can make you appear younger because lighter tones soften facial features. Hair gets darker as you age in many cases so lighter tones can be age defying.